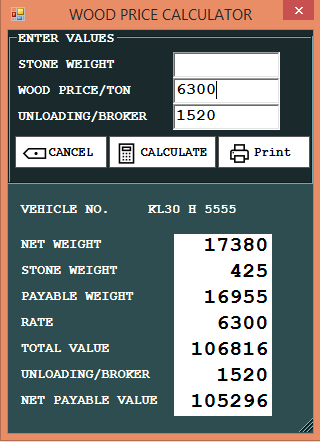 WEIGH BRIDGE ASSISTANT 5.0 is a Weigh Bridge software. It is a Windows based Software works with all Windows versions. WEIGH BRIDGE ASSISTANT 5.0 has an easy to understand and user friendly interface. It is easy to learn for those who don't have a basic computer knowledge. You can print weight slip with minimum key strokes This software is capable of supporting many Weight Indicators available in the market now. The specially in this is that even the user can configure it with Weight indicators with no difficulties. Two customizable fields has been provided. Captions of these two fields can be changed according to requirement of user. WEIGH BRIDGE ASSISTANT 5.0 has a encrypted database to ensure data security. Multi level user access with password further increases data security.
WEIGH BRIDGE ASSISTANT 5.0 comes with an exclusive feature called Wood Price Estimate Printing. It is used for calculating Wood prices. This feature is useful for wood markets. This can save lots of time that is required for manual calculation.
---
Major features of WEIGH BRIDGE ASSISTANT are..
Extended printer support, you can print in DOS and Windows mode. Supports network printers. USB and parallel port support.
Detailed reports, You can create reports between user defined time period, Categorized reports
Bill reprint, To reprint weight slip.
Basic calculator
Address book
One touch back up
Interim Weight Slip printing etc.
Title: WEIGH BRIDGE ASSISTANT 5.0
Supported OS: Windows (All)
Requirements: Crystal Report, Net frame work 3.5
Disk Space Needed: 10 mb
One Communication port (Read weight from indicator)